Why Washington springs leaks in election season
GOP lawmakers said Tuesday they don't believe Obama's denials of White House-sanctioned leaks about US efforts to disrupt Iran's nuclear program. Leaking for political purposes has a storied past in Washington.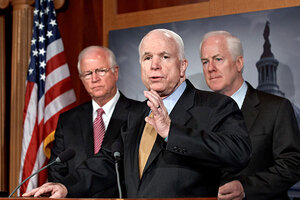 J. Scott Applewhite/AP
You lie.
They may not be yelling at President Obama amid his State of the Union message, as Rep. Joe Wilson (R) of South Carolina famously did, but that was the message Senate Republicans had for the president Tuesday over his recent denials that members of the White House were behind leaks of sensitive intelligence information.
While leaks occur almost perpetually in Washington, an election season that has banished most other substantive items from Congress's plate makes leaks prime territory to score political points.
Disclosure of secret information about Iran's nuclear program and American covert efforts to disrupt it, among a handful of other intelligence issues, has driven members on both sides of the aisle up the wall with fury.
Confronted with concerns about disclosures at a press conference in early June, Mr. Obama told reporters that allegations that the White House "would purposely release classified national security information is offensive."
At a press conference Tuesday, Republican senators were having nothing of it. Sen. John McCain (R) of Arizona quoted an extended excerpt from New York Times reporter David Sanger's recent book, "Confront and Conceal," that reports senior White House intelligence officials disclosing intelligence relating to Iran's nuclear program.
---