Is Obama really losing the money battle? A fundraising Q&A.
President Obama is claiming that Mitt Romney and his allies could outspend him, but the truth (not surprisingly) is a little more complicated. Here is what's known about the money race.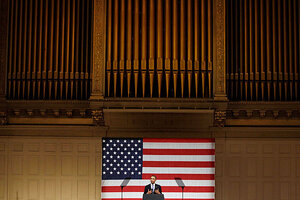 Stephan Savoia/AP
The recently leaked recording of a conference call among President Obama and some of his top 2008 campaign donors sparked a new round of less-than-rosy headlines about the president's fundraising. On the call, Mr. Obama didn't mince words: With donations pouring in to Republican "super political-action committees" and the Mitt Romney campaign, Obama said he is on track to become the first sitting president in modern history to be outspent by his opponent.
In fact, Obama's campaign has been making this claim repeatedly, in a battery of urgent fundraising pleas during the past few weeks. Republicans, in turn, have been accusing the president of crying wolf – pointing out that his campaign holds the advantage in cash on hand over Mr. Romney's.
So who's right? Could Obama – who famously shattered all fundraising records back in 2008, collecting nearly three-quarters of a billion dollars – actually lose the money race this time around? Or is he just trying to instill fear in the hearts of Democratic donors who have been reluctant to pony up?
The short answer: Yes and yes.
Obama may wind up being outspent, but he's still ahead in fundraising for now (we think – though the activity of some outside groups is murky enough that it's hard to be totally definitive). What seems more certain is that the president won't wield anything like the overwhelming cash advantage he had over Sen. John McCain in 2008. Instead, 2012 is shaping up to be a very competitive fundraising battle that will probably break a variety of records.
Here's attempt to answer some of the questions – and puncture some of the myths – surrounding the candidates and the fundraising efforts on their behalf.
---