Colorado shooting highlights barriers to tough gun control: Obama and Romney
Early in their political careers, Barack Obama and Mitt Romney advocated tougher gun laws. But as President, Obama has been largely silent on the issue, and Romney has embraced gun rights.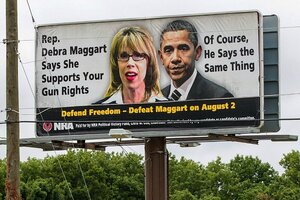 Erik Schelzig/AP
There are two major reasons why the Colorado theater shooting rampage won't bring greater restrictions on the nation's extraordinary arsenal. They're both running for president: Barack Obama and Mitt Romney.
Over the years, both men have moved from left to right – liberal to conservative – on controlling guns in the United States.
In Obama's case, he has stifled any earlier tendency to speak out on things like restricting the sale of assault rifles in the US. For Romney, it's been a steady march into the embrace of the all-powerful National Rifle Association since the time when he ran unsuccessfully for the US Senate in Massachusetts and declared, "I don't line up with the NRA."
They're both politicians, and they both can read public opinion polls. The trend there among voting Americans has been in the same direction.
Gun nation: Inside America's gun-carry culture
For a while after the Columbine High School mass shooting in Littleton, Colo. in 1999, that seemed not to be the case. "Given a choice between protecting the rights of gun owners and controlling gun ownership, two-thirds of Americans now favor restrictions on ownership of fire arms," the Pew Research Center reported at the time.
---