Romney pressed to release tax returns. Watchdogs ask what about Congress?
Democrats and some Republicans are hounding Mitt Romney to release his tax returns. But ask Congress members to release theirs and silence is the most frequent response. Double standard?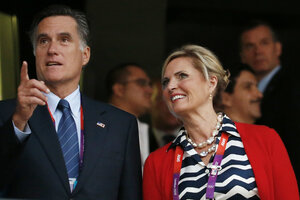 Jae C. Hong/AP
Mitt Romney is under fire from Democrats on Capitol Hill – and "friendly fire" from some Republicans – to release more of his income tax returns. Should members of Congress, or at least congressional leaders, be expected do the same?
If you ask congressional members themselves, the answer you'll get is a resounding double-standard no – or merely maybe.
Rep. Sander Levin of Michigan, the top Democrat on the tax-writing House Ways and Means Committee, is drafting legislation that will require all presidential candidates to release 10 years of tax returns and to disclose overseas accounts. The measure is prompted by Mr. Romney's "stunning lack of transparency," he said in a statement.
Will he propose extending that standard to members of Congress?
"I'm looking at that," he said in a C-Span interview to be broadcast on Sunday.
Romney has released his 2010 return and promises to release the 2011 return, but he has rebuffed calls to release returns from further back. "None of the tax returns are required by law to be put out," he told Fox News. "What is required by law – the financial disclosure – has already been made." President Obama has released tax returns from 2000-2011 and posted them on his campaign website.
---