Where Todd Akin and Paul Ryan agree, and disagree, on abortion
There's nothing to indicate that Paul Ryan shares Rep. Todd Akin's strange rationale for denying rape victims access to abortion. But the GOP's vice presidential candidate opposes such abortions, nonetheless.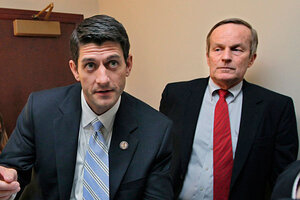 J. Scott Applewhite/AP/File
The interview question that hurtled Rep. Todd Akin (R) of Missouri into a world of political hurt was why he believes that abortions should be prohibited even in cases of pregnancies resulting from rape. It's a view shared by about 20 percent of the American public and other conservative lawmakers, including vice presidential candidate Paul Ryan – and one that has been part of the Republican Party's official platform for nearly three decades.
Representatives Ryan and Akin, in fact, have voted in lockstep on abortion matters since Akin joined Ryan in the House in 2001. Moreover, they teamed up on a controversial bill defining life as beginning at conception. Similar measures put forward at the state level have been rejected by voters and lawmakers even in GOP strongholds such as Mississippi.
During a radio interview Tuesday, Akin has vowed to stay in the race for the US Senate, even as all four of Missouri's current and former GOP senators and the National Republican Senatorial Committee urged him to drop out. He is under fire for comments made Sunday in which he suggested that victims of a "legitimate rape" generally do not become pregnant.
Akin has since apologized.
---