Why Democratic platform uproar points to deeper challenge for party
Democrats restored the words 'God' and 'Jerusalem' to their platform Wednesday, saying the omission was an 'oversight.' But with a growing share of Democrats turning away from organized religion, 'God talk' can cause some tension.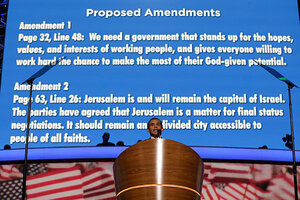 Charles Dharapak/AP
Why the words "God" and "Jerusalem" were excised from the Democratic platform is not exactly clear – Democratic National Committee Chairwoman Debbie Wasserman Schultz called it a "technical oversight." But even if it was a mistake, it points to the Democratic Party's challenge of recognizing its robust and integral religious supporters while also acknowledging that a growing share of members see organized religion as a diminishing priority.
To be sure, the optics of reinserting the words into the platform Wednesday as some conventioneers seemed to boo were not ideal. But convention Chairman and Los Angeles Mayor Antonio Villaraigosa has said President Obama insisted on the change, and the reasons are clear.
"For your undecided voter in Nevada, North Carolina, in Florida, in Ohio, in Pennsylvania – those key swing states, yeah, of course God matters," says Davis Houck, a communications professor at Florida State University in Tallahassee. "And that's why Obama basically said, 'You better put that back in – we can't be seen as the party taking God out of the platform.' "
---