Everything you need to know about budget 'sequestration' – except the consequences
The White House has reported on the $1.2 trillion in automatic budget cuts that are part of last year's debt ceiling deal. But how the cuts will impact individual programs remains unclear.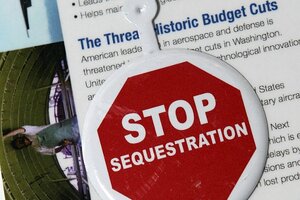 Robert Sullivan/REUTERS
You can now go line by line in the federal budget and see just how deep the spending cuts slated for January will go thanks to a White House report released Friday on the impact of what's known as "sequestration."
What still isn't there, however, is how the Selective Service (down 9.4 percent, or $2 million), managers for federal emergency food and shelter funding (down 8.2 percent, or $10 million) or operations and maintenance at the Marine Corps (down 9.4 percent, or $854 million) will actually cope with the reductions.

How many fewer tents will the Federal Emergency Management Agency buy? How will the Marine Corps maintain its combat readiness? That's all still unclear.

"There will be some unintended consequences sooner or later," says Pete Davis of Davis Capital Investment Ideas. "They've taken 8.2 percent out of embassy security which doesn't seem like such a great idea right now…. What are you going to do if you're building a ship and you're going to take 9.4 percent out of it? It's not like you can just buy 90 percent of a ship."
RECOMMENDED: 'Fiscal cliff'? 'Sequester'? Your guide to Congress's code language.

Sequestration was the result of last summer's debt ceiling deal, which cut $1 trillion in government spending over the next decade outright and then put responsibility for finding another $1.2 trillion on Congress.
---