Where did the mammoth US budget deficits come from?
Let's go back about a decade, when budget surpluses were predicted for the foreseeable future. Somehow, the math went terribly wrong, by trillions of dollars. Here's an accounting of what happened.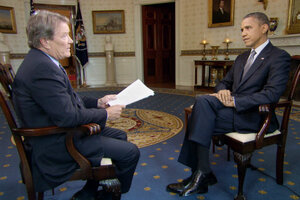 CBS/AP/File
What's the cause of the federal government's huge budget deficits? That's a question that is harder to answer in the particular than you might think. The general problem is obvious: Uncle Sam has been spending more money than he takes in. The specific reasons as to why this state of affairs exists are a mix of human decisions, economic circumstance, and the cumulative effect of time.
Context is important here. So let's start with 2001. That year, the Congressional Budget Office looked out over the decade to come and saw ahead nothing but blue skies and black ink. It predicted that between 2001 and 2011 the US would run budget surpluses totaling $5.6 trillion.
That didn't happen. Instead, the US racked up $6.1 trillion in deficits over that period. CBO's prediction was a whopping $11.7 trillion off the mark. How did things go so wrong?
CBO has gone back and studied that, as it happens. In a paper published earlier this year, the group's economists tried to pull out and compare the reasons for the multitrillion swing.
One big problem was that CBO isn't magical. Unblessed with the ability to predict the future, it didn't accurately foresee the economic troubles of coming years, including the crash of the Great Recession. This meant that less tax money came in than anticipated. Overall, CBO says that about $3.3 trillion of its $11.7 prediction error can be attributed to "economic and technical changes" to projected revenues.
---