Presidential debate 101: Is Romney right about $716 billion in Medicare cuts?
In Wednesday's presidential debate, the GOP's Mitt Romney cited ill effects from $716 billion in cuts to Medicare contained in Obama's health-care reform law. Here's a look at what fact-checkers say.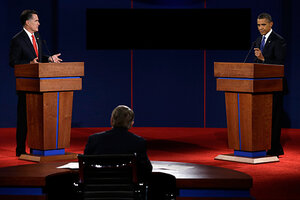 Charlie Neibergall/AP
Medicare has been a hot topic this campaign cycle, and it came up again during Wednesday's debate between President Obama and Republican challenger Mitt Romney.
Mr. Romney brought up a point he's hit hard before – that with the passage of his health-care reform law, the Affordable Care Act, Mr. Obama is responsible for $716 billion in cuts to Medicare.
"If the president were to be reelected you're going to see a $716 billion cut to Medicare," Romney said. "You'll have 4 million people who will lose Medicare Advantage. You'll have hospitals and providers that'll no longer accept Medicare patients. I'll restore that $716 billion to Medicare."
Decoder has taken on this claim before, but with the dollar number in the spotlight again, let's take a look at how other news outlets are decoding this claim.
After the debate, the Tampa Bay Times' PolitiFact rated Romney's claim as "half true." It explains exactly where the number, $716 billion, comes from: A Congressional Budget Office report determined that between 2013 and 2022, the Affordable Care Act would reduce the amount of federal spending on Medicare by $716 billion.
---