Latest polls: Romney's uphill fight not as steep
Public opinion polls are moving things in Mitt Romney's direction, with one expert suggesting that Romney 'has peeled off some of Mr. Obama's softer support in addition to gaining ground among undecided voters.'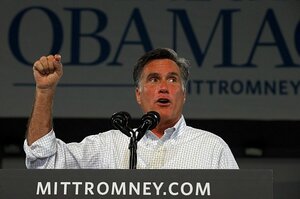 Brian Snyder/REUTERS
Everyone agrees that this past week was a big deal for Mitt Romney. Boffo reviews for his debate performance Wednesday night, a pirouette toward moderation that may attract undecideds and some disaffected Democrats – as long as they're not cynically reminded of the infamous "Etch A Sketch" prediction by Romney's advisor back in March, the child's toy invoking "flip-flop."
It was, as senior Obama campaign adviser Robert Gibbs said on several TV talk shows Sunday, a "masterful performance."
But was the week a major game-changer for the presidential race?
There still are 30 days and two more Romney-Obama debates until Election Day. But initial post-debate polling shows definite movement in Mr. Romney's direction.
RECOMMENDED: Presidential debate: 7 defining moments in history (+video)
A Rasmussen national survey out at week's end shows a shift from Obama 49-47 to Romney 49-47.
"This is a small shift that's significant in a close race," pollster Scott Rasmussen told the New York Post. "Both candidates have a stable base, and the race is close. Barring something that happens in the real world, it's likely to remain close."
"Bounces are called bounces because they don't last forever," Mr. Rasmussen says. "We don't know if this will disappear, or if they will build on it, or what other news will do to the race."
---