Senator prods Gang of 8 to make middle class, deficit-cutting top priorities
As bipartisan talks to avoid a 'fiscal cliff' renew this week, a top Senate Democratic leader, Charles Schumer, warns negotiators that any plan that aims to cut taxes on the rich and also cut deficits is 'a trap,' and won't add up.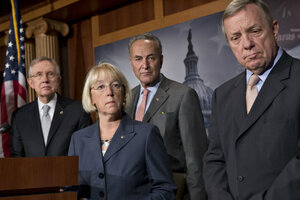 J. Scott Applewhite/AP/File
If you want to fix America's tax code, one of the Senate's leading Democrats argued forcefully on Tuesday, Congress needs to face one stark reality: "You can't have it all."
That includes the so-called "Gang of Eight" senators, four Democrats and four Republicans, who are meeting down the river at Mount Vernon to come up with a tax-reform plan that could pass muster in a lame-duck session of Congress, averting a plunge off the "fiscal cliff" at the start of 2013.
"Leaders on both sides are actively encouraging their talks. I certainly am," Sen. Charles Schumer (D) of New York told reporters. "But I hope they can revisit their approach to tax reform."
Commenting on three widely repeated goals of tax reform – cutting top income-tax rates, reducing the federal deficit, and protecting the middle class from tax hikes set to take hold in 2013 – Senator Schumer said that all three cannot be achieved at once.
"Anyone pushing a plan purporting to accomplish all three isn't telling the truth," Schumer said. "The sooner we are honest with ourselves about this, the easier it will be to negotiate a compromise on taxes."
That flies in the face of cozy, conventional talking points in Washington, where members of both parties publicly ache for a tax accord that "broadens the base and lowers the rates."
But that Washington tax-reform shorthand – and the memory some lawmakers have of the 1986 tax reforms – ignores both a fundamental change in the state of the nation's finances and the growing income inequality, Schumer said.
---