Presidential debate 101: In oil drilling spat, did Obama make his best case?
A tense exchange between Romney and Obama on oil drilling was perhaps the most contentious of the second presidential debate. Here's a look at what was said, and whether it was accurate.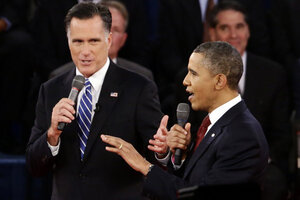 Charles Dharapak/AP
The exchange on energy policy on Tuesday night's debate was possibly the most contentious area of disagreement.
Former Massachusetts Gov. Mitt Romney tried to get President Obama in a headlock over the number of drilling permits issued to try to find new oil. Mr. Romney kept circling Mr. Obama while he asked six times, "How much did you cut them (drilling permits) by, then?"
Obama blamed the oil industry for sitting on oil leases for decades and said the permits were taken away since they were not being used. But, regardless of the permits, Obama said, oil production is up.
Romney said, oh no, production on federal lands is down.
It would be surprising if anyone watching the debate were not confused.
Who is right? It turns out that there is truth in both statements.
First, there is no doubt that drilling permits fell. According to the Department of the Interior, permits dropped 36 percent in 2011 from the prior year. Romney claimed Obama had cut licenses and permits in half.
But what Obama did not say was that the reason permits dropped was the giant BP oil spill in the Gulf of Mexico in April of 2010. After the spill, the Department of the Interior issued a moratorium on new permits until it could review safety procedures and draft tighter anti-pollution regulations. In October 2010 it lifted the moratorium after drafting tougher rules.
"When you have a spill that big you look around and ask, 'Are we doing everything carefully,' " says Sarah Emerson, managing principal at Energy Security Analysis Inc. in Wakefield, Mass. "It was careful governance, but it would have an impact on production in the subsequent year."
---