Would Romney really dare to tag China a 'currency manipulator'?
Mitt Romney said again, during Tuesday's presidential debate, that on Day 1 in office he'll declare China a 'currency manipulator' – something recent presidents have resisted doing. The aim: to improve prospects for US exports. The risk: that China will retaliate in a most unpleasant way.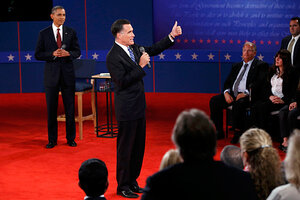 Mike Segar/Reuters
There he goes again – Mitt Romney used the big stage of a national presidential debate Tuesday night to hammer home his oft-repeated pledge to act on Day 1 of a Romney White House to declare China a "currency manipulator."
As he does on the campaign trail – especially in manufacturing states of the Midwest such as Ohio – Mr. Romney threw down his commitment to slapping China over its currency as a graphic way of assuring voters that he would get tough on China and what he says are its unfair trade practices.
"I'll crack down on China," Romney said in response to a question asking how manufacturing can be brought back to the US. Saying he would do something President Obama "refuses to do," Romney said: "On Day 1, I will label China a currency manipulator, which will allow me as president to be able to put in place, if necessary, tariffs where I believe that they are taking unfair advantage of our manufacturers."
But Romney's insistence that one of his first acts as president would be to do something that both Mr. Obama and predecessor George W. Bush resisted doing – despite intense pressure from Congress – has caused speculation over Romney's motivations. Is he serious, some international economists wonder, about carrying out an action they say could lead to a devastating tit-for-tat trade war and even, in the extreme, to an economic depression in the US if China reacted by no longer buying US Treasury debt?
---