Set aside debate over Romney tax math: Is tax reform a good idea?
The momentous policy challenge of how to fix America's dysfunctional tax system has been largely obscured by the debate over Mitt Romney's tax math. But there's broad support for tax reform.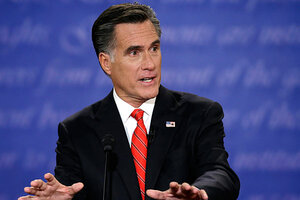 Eric Gay/AP
One of the biggest policy questions at stake in the presidential election ­– how to fix America's dysfunctional tax system – has become largely obscured by bickering over the budgetary math of one candidate's proposal.
The scrutiny of Mitt Romney's plan for a 20 percent cut in income tax rates is deserved. That's a big tax change, and he hasn't explained how he would pay for it at a time of chronic federal deficits – which he also pledges to reduce.
But the legitimate questioning of Romney's math has to some extent short-circuited campaign debate over a much bigger issue: The US tax code is widely perceived as burdensome, as it imposes steep compliance costs and unduly distorts the behavior of businesses and households. Reforming it offers a promising way to improve the health of both federal budgets and the economy.
The big question is how to approach that task. Mr. Romney's plan may or may not be the right one, but his general idea – lowering tax rates while limiting things like deductions in order to "broaden the base" of taxable income – is viewed by many tax experts as one promising path forward.
Amid the din of dueling sound bites from the campaigns, some voices on the sidelines are warning that this bigger picture is getting lost.
"The real story should not be about one campaign nit-picking the budgetary impact of the other campaign's proposals," Alex Brill, a research fellow at the conservative American Enterprise Institute, opined in an online commentary this month. "Rather the real story should be about the substantive policy visions of each of the candidates."
---