Mitt Romney's big economics speech: Can he deliver 'big change?'
In Iowa, Mitt Romney tells voters President Obama made the economy he inherited worse and pledges policy changes to bring the US economy 'roaring back.'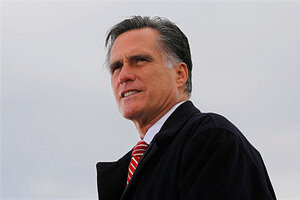 Brian Snyder/Reuters
Mitt Romney pledged Friday that he can deliver policy changes that bring the economy "roaring back."
That assertion, made in an economics speech to voters in Iowa, came amid news that the US economy still is growing at a slow pace: an annual rate of 2 percent, according to the Commerce Department's preliminary gauge of activity in the year's third quarter.
Against that backdrop, Mr. Romney framed his remarks with a rebuke of the Obama presidency.
"President Obama frequently reminds us that he inherited a troubled economy," Romney said. But he also "inherited the most productive and innovative nation in history. He inherited the largest economy in the world.... What he inherited wasn't the only problem; what he did with what he inherited made the problem worse."
Romney said Friday his own plan would bring not only jobs but also control the rising national debt – by setting a new tone of bipartisanship, restraining federal spending, and reforming entitlements.
But as voters know, that's a tall order. Is his promise of sweeping fiscal reform credible?
The answer may be a "good news, bad news" story. On the positive side, it appears likely that whoever wins will face public and financial-market pressure to address the nation's fiscal problems. And many economists embrace a basic tenet of Romney's plan: to focus on generating economic growth, not solely on closing budget deficits in Washington.
On the negative side, however, are some serious doubts. Independent finance experts have asserted that Romney's fiscal plans are math-challenged. And even if his desire to work "across the aisle" is sincere, some analysts question whether he could deliver bipartisan cooperation, given the rigid party lines visible in Congress on issues like taxes.
---