Mitt Romney plans Pennsylvania ad blitz. Can he turn state red?
Pennsylvania is one of the blue states where the Romney team says momentum has changed the campaign calculus. But other factors might be behind the decision to ramp up ads there, too.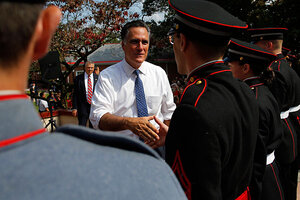 Brian Snyder/REUTERS/File
What happens when political momentum collides head-on with cold, hard polling data?
The answer could come Nov. 6 in Pennsylvania.
On Tuesday, Mitt Romney added it to its list of "target states" for the last week of the campaign, meaning he will advertise in the commonwealth on Election Day and the day prior after largely ignoring the state for months. Groups allied with Romney will spend another $3 million on ads in Pennsylvania, as well. The reason for the switch? The Romney campaign is surging, operatives say.
The Obama campaign, however, dismisses Mr. Romney's "Big Mo" argument with a few facts: The president has led virtually every poll this election cycle, his party holds a sizable advantage in registered voters, and the Keystone State that hasn't gone for a Republican presidential candidate since 1988.
Writ large, this argument goes beyond Pennsylvania: In states such as Minnesota, Wisconsin, and Michigan, Democrats argue that the polls are on their side, while Republicans counter that they are coming on strong when it counts. In North Carolina, the sides are reversed.
---