Why Obama insists on higher tax rates for the wealthy
As the 'fiscal cliff' looms closer, President Obama says higher tax rates for the wealthy – not just revenue from limiting deductions and other sources – is his nonnegotiable demand.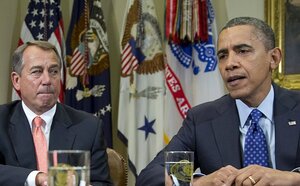 Carolyn Kaster/AP
As the "fiscal cliff" draws ever-closer, President Obama has grown increasingly adamant that the wealthy pay higher tax rates, not just kick in more revenue.
It's the president's one nonnegotiable: The wealthiest taxpayers must see their marginal rates rise, while everyone else's remain at the reduced Bush-era levels. His definition of wealthy – individuals making more than $200,000, couples making above $250,000 – could get a tweak. (His ally Warren Buffett wants "wealthy" to start at $500,000.)
And Mr. Obama might settle for a new top rate that's shy of the 39.6 percent that ruled during the Clinton presidency, his spokesmen have suggested.
But the rate must go up.
Obama campaigned hard on raising taxes on the wealthy – that they pay their "fair share" – and won reelection. His job approval rating is on the rise. He has political capital to burn. So why is he burning it on the rate issue? Can't he raise the revenue he wants – $1.6 trillion over 10 years – by limiting or ending wealthy taxpayers' deductions, exemptions, and credits?
In a word, no. Certainly, he can raise a lot of money that way. And if he settles for less overall revenue in a deficit-reduction deal with the Republicans, in theory much of it could come from limiting or ending tax breaks. But by insisting that all the revenue come from the wealthy, he has no choice but to stand firm on higher rates.
---