Raising Medicare's eligibility age: How much money would it save?
A full account of the impact of raising Medicare's eligibility age to 67 must also include the added costs to other expensive programs, as some seniors switch to Medicaid or seek government subsidies for private insurance.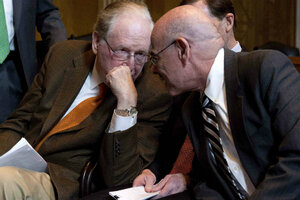 Joshua Roberts/Reuters
How much money could the US government save by raising the eligibility age for Medicare to 67? That's a key question facing the White House and House Republicans as they try to keep the US from plunging over the so-called "fiscal cliff."
Any deal Washington negotiators might reach is likely to cut big entitlement programs in some fashion. House Speaker John Boehner has proposed raising Medicare's eligibility age by two years from the current 65. President Obama has not ruled this change out, so at the moment it remains on the table. What would be its fiscal effect?
In isolation, it would substantially reduce government health spending. The Congressional Budget Office in January released a report that looked at increasing Medicare's age of eligibility by two months per year, beginning in 2014, until it reaches 67. (A phase-in on that schedule would hit that ceiling in 2027, for people born in 1960, in case you're interested.) By itself, this change would save the government $148 billion from 2012 to 2021, according to the CBO.
Altering the rules of the Medicare road this way would have a permanent effect on the program's expenditure outlook. By 2035, Medicare's spending would be about 5 percent lower annually than it otherwise would be. That would be an appropriation equal to about 4.7 percent of gross domestic product, as opposed to a projected 5 percent of GDP under current law.
---