Social Security: Is reform needed now or not?
Negotiations over avoiding the 'fiscal cliff' have put Social Security back in the news. While the program isn't a money loser for the federal government, its trustees favor acting soon to keep it healthy.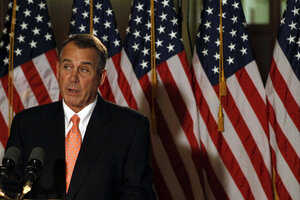 Gary Cameron/Reuters
A proposal by President Obama, in fiscal talks with Congress, has put Social Security back in the news.
The president's latest deficit-reduction offer to House Speaker John Boehner (R), summarized in news reports early this week, includes the idea of changing the way inflation is calculated when making annual adjustments to Social Security benefits.
The move is controversial, and it brings to the forefront a basic question: Does Social Security need reforms right now, or not?
Some budget experts praised Mr. Obama for agreeing with Republicans on the idea of shifting to what's called a "chained" version of the consumer price index (CPI) to calculate cost-of-living adjustments in retiree benefits.
They argue that the chained CPI is a more accurate guide to the cost of living. Basically, this gauge would take into account not only changes in prices for various goods, but also the way consumers respond to prices by adjusting the mix of goods and services they buy. And supporters say that, because the result will be modestly smaller cost-of-living increases, the move will help to put Social Security's finances on track.
Opponents of the move call it a sneaky way to cut benefits in a program on which millions of Americans rely. Some of these critics reject the idea that Social Security requires urgent attention. In many cases, they conclude that the widely popular entitlement needn't be part of the "fiscal cliff" talks at all.
America's large federal deficits in the past few years, after all, stem from a range of other forces, including the effects of recession, the Bush tax cuts, and high military spending over the past decade.
So which is it – does Social Security need to be addressed now or not?
The short answer is that the program is not a money-loser for the federal government right now, but does face a funding shortfall in the fairly near future. The program's trustees say the best time to act is now, not later. (Details can be seen in bullet points below.)
---