How Obama won and lost in 'fiscal cliff' deal
President Obama would have looked incompetent if the nation had gone over the fiscal cliff. But now he faces three more cliffs early in 2013, and those could limit his scope.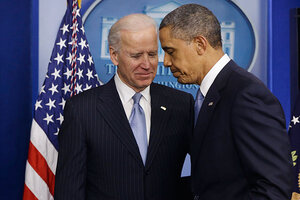 Charles Dharapak/AP
On balance, President Obama came out a winner in the last-minute "fiscal cliff" deal that averted income-tax hikes on most Americans and postponed deep federal spending cuts.
Had the deal not passed Congress, both the White House and bipartisan leaders on Capitol Hill would have had egg on their faces. The public would have had cause to blame Washington for yet another self-inflicted wound that threatened to send markets into a spiral and put both the US and global economies back into recession. Republicans would have come in for bigger blame than the president, polls showed, but Mr. Obama, too, would have looked incompetent.
Instead, Obama delivered on his top reelection campaign promise: that the wealthiest taxpayers see an increase in their marginal income-tax rate in 2013. True, his definition of "wealthy" morphed significantly – from $250,000 to $450,000 in annual family income. Late Tuesday night, after the House passed the bill, Obama persisted in saying that the bill he will sign into law "raises taxes on the wealthiest 2 percent of Americans," when in reality, it's more like the wealthiest 0.7 percent.
But those wealthiest taxpayers will see their top rate go back to where it was during the Clinton era – from 35 percent to 39.6 percent. During the negotiations, there had been talk of setting the top rate somewhere in between.
---