Jobs report finds little overall progress. Why is recovery so slow?
Jobs report says the unemployment rate was 7.8 percent in December – the same as for November. Employment growth is notably slower than in past recoveries from recession.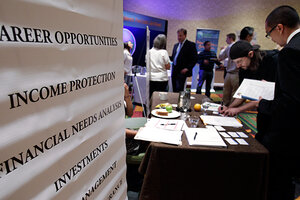 Paul Sakuma/AP
The US unemployment rate held steady at 7.8 percent in December, with the good news being that the job market didn't stumble because of high-stakes brinkmanship in Washington over taxes.
For now, the job market has dodged the "fiscal cliff," but employment growth is also notably slower than in past recoveries from recession.
The economy added 155,000 jobs in December, the Labor Department said Friday as it reported the results of its monthly survey of employers. A separate survey of US households found the unemployment rate unchanged, as tepid job growth was more than matched by the entry of new people into the labor force to look for work. The jobless rate for November, which had been initially reported as 7.7 percent, was revised up to 7.8 percent.
"Some of the uncertainties in the economy have been removed with the fiscal cliff agreement [on tax rates for 2013], but Congress failed to address the debt and deficit issues which will still be a drag on the economy," said Chad Moutray, chief economist at the National Association of Manufacturers, in a written analysis of the labor report.
Manufacturing was one of the bright spots in the monthly numbers, showing a gain of 25,000 hires on employer payrolls.
But overall, the key phrases in the Labor Department's description of the job market were "essentially unchanged" and "little changed." The stock market reacted in kind, with the Standard & Poor's 500 index essentially flat Friday morning after the news.
Why has the jobs recovery since the recession, which officially ended in 2009, been so slow?
Before looking at some answers, here's the evidence on how the current job market compares with that in past recoveries.
The current pace of recovery is weaker than in the other recoveries since 1948, with the possible exception of the period after the economic slump of 2001.
---