Gun debate 101: How would this assault-weapons ban be different?
President Obama's gun plan calls for a tougher version of a 1994 ban on assault weapons. Here's a primer on how it might work and what effects it might have.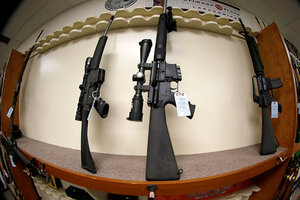 Keith Srakocic/AP
Among other things, President Obama's package of new gun-control proposals calls on Congress to reinstate the ban on assault weapons that was the law of the land from 1994 to 2004.
Such military-style rifles were the weapon of choice in the tragic shootings in both Aurora, Colo., and Newtown, Conn., the president pointed out. He said that their sole purpose is to "pump out as many bullets as possible, as quickly as possible," and that they therefore have no place on the streets of America.
The proposed ban faces an uncertain future on Capitol Hill, however. Many lawmakers are leery about banning a particular class of firearm. Gun-rights proponents argue that "assault weapons" is a category based on appearance as much as capability.
So what is an assault weapon, anyway? Are they inherently more dangerous than, say, bolt-action hunting rifles? If they are so bad, why did Congress let the previous ban expire? Do they have any legitimate purpose?
Here's a primer to try to outline some basics about these controversial yet commonly owned guns:
What's the definition of "assault weapon"?
Assault rifles are high-powered, small-caliber rifles (or pistols) styled to look as if they belong in the US Army's arsenal. Military assault weapons such as the M16A2 function as fully automatic weapons, firing multiple bullets with one pull of the trigger. But civilian ownership of machine guns has been highly controlled in the US since the 1930s. Assault rifles available on the domestic market are semi-automatic, meaning one pull of the trigger fires one bullet, while the next round is chambered automatically and ready to go.
How would a ban work?
Semi-automatic weapons are very common, so that's not the basis on which assault weapons would be banned. Instead, legislation controlling assault weapons would name specific firearm models, such as Bushmaster's AR-15, as well as combinations of features to be outlawed.
---