Support coalesces around GOP's temporary fix to debt ceiling crisis
The Obama White House said Tuesday it will not oppose a GOP-led House plan to raise the national debt ceiling for 90 days. Many firebrand fiscal conservatives, too, appear willing to go along. But the plan carries risks for both parties.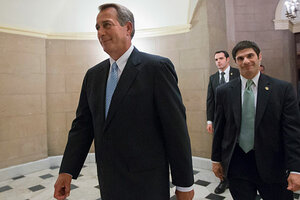 J. Scott Applewhite/AP/File
Democrats and Republicans appear ready to postpone a fight over raising the national debt ceiling, currently slated for late February, averting until at least mid-May a struggle with potentially calamitous economic implications until the spring.
But what top lawmakers decide about how exactly to go about doing so looks to make the next 90 days pivotal for both parties.
For Democrats, how to achieve a short-term increase matters greatly for President Obama's second-term agenda, which could be bogged down in months of fiscal combat. For the Republican majority in the House, the outcome of their debt ceiling gambit could lead to bitter infighting if conservative lawmakers feel betrayed again by GOP leadership.
House Republicans want to force Senate Democrats to produce a budget – an effort to make them politically own the government's large deficits. To do that, Republicans are attaching "no budget, no pay" legislation to a temporary suspension of the debt ceiling. Under the GOP proposal, both chambers would have until April 15 to produce a budget resolution. If a chamber didn't get the job done by then, its members would forgo pay until a budget passes or the congressional term ends, whichever comes first. The debt limit would be suspended for a month longer, until May 15.
The House is expected to pass the measure on Wednesday.
House Democrats have been longing to dispense with the so-called Boehner Rule, named after House Speaker John Boehner of Ohio, which calls for $1 in spending cuts for $1 in new lending authority. The GOP's three-month plan does just that. Democratic leaders and the White House hailed it as lifting "the immediate threat of default" and as an indication "that congressional Republicans have backed off an insistence on holding the nation's economy hostage to extract drastic cuts" to government programs.
The Obama administration said Tuesday it "would not oppose" a short-term handling of the federal debt ceiling. That puts Senate Democrats in a tough spot: They've skipped a budget each of the past three years so as to shield vulnerable members from tough votes on spending priorities. Sen. Charles Schumer (D) of New York recently said Democrats were planning to draft a budget this year, but neither majority leader Harry Reid of Nevada nor Senate Budget Committee Chairwoman Patty Murray (D) of Washington has made a similar commitment.
---