Sarah Palin vows to fight on without Fox News gig
Sarah Palin has parted ways with Fox News, but says, 'we haven't begun to fight!' even though polls show declining support for the tea party movement. In particular, she promises to 'shake up the GOP machine.'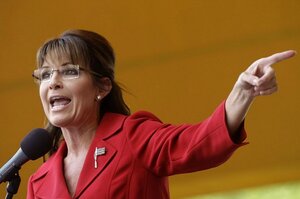 Stephan Savoia/AP
The "lamestream media," as Sarah Palin calls it, may have written her off now that the former vice presidential candidate and tea party favorite has lost her principal media voice as a well-paid commentator on Fox News.
But there's no indication that Ms. Palin will go back to life in Alaska as the former mayor of a small town and then governor for two years, fishing and hunting with her family before Sen. John McCain picked her out of relative political obscurity to be his running mate in 2008.
"I was raised to never retreat and to pick battles wisely, and all in due season," she said in the one substantial interview she's given since Real Clear Politics first reported that Palin and Fox had parted ways. "When it comes to defending our republic, we haven't begun to fight! But we delight in those who underestimate us."
How well do you know Sarah Palin? A quiz.
The extent to which the conservative-leaning TV enterprise tried to keep her onboard is still unclear.
Fox reportedly offered Palin far less than the million-dollar annual contract that had included a broadcast studio at her home in Wasilla, Alaska. She turned it down, and Fox had no inclination to up the ante.
---