US economic backsliding temporary? Maybe not if 'sequester' hits.
A dip in GDP during the fourth quarter of 2012 stemmed largely from a dive in federal defense spending. Some economists see a cautionary lesson for upcoming sequester talks in Congress.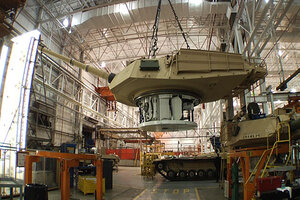 General Dynamics Land System/AP/File
When the government reported Wednesday that the economy shrank in the most recent quarter, forecasters generally said not to worry. This was a temporary slowdown, driven by one-time factors.
Defense spending fell by an unexpectedly large amount, and a decline in business inventories put some manufacturing activity on hold. The major storm named Sandy probably played a role as well.
But that assessment comes with an asterisk – one that Americans including members of Congress may want to heed. Some of the "temporary" setbacks could easily resurface if Congress doesn't do a careful job dealing with partisan conflicts over federal spending.
It's not unthinkable that economic growth could turn negative for a couple of quarters – one definition of a recession – if the automatic spending cuts known as the "sequester" take effect as currently scheduled on March 1.
"The concern is valid," says Rajeev Dhawan, who directs the economic forecasting center at Georgia State University in Atlanta. "Yesterday's headline number [puts] pressure on the Congress to come to some kind of a solution on the sequester."
Consider that economists are generally forecasting growth of about 2 percent in gross domestic product this year, and in the fourth quarter a $47 billion decline in defense spending was, by itself, sufficient to drag down the rate of GDP growth by nearly 1.3 percent.
When the economy "paused" (that's the word the Federal Reserve used Wednesday), planners in private businesses and at the Pentagon caused the downshift partly in response to uncertainty about the "fiscal cliff," the scheduled tax hikes and spending cuts that loomed at the time.
---