Gun debate 101: Doesn't US already have laws against gun trafficking?
Congress is considering legislation to crack down on gun traffickers and so-called straw buyers. But the NRA says the Obama administration just needs to enforce laws already on the books. Here's what the record shows.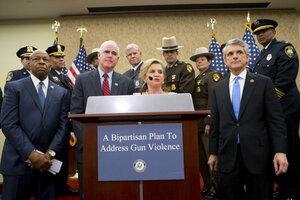 J. Scott Applewhite/AP
Legislation to prohibit gun trafficking and so-called straw purchases of firearms has been one of the few concepts to achieve bipartisan traction on Capitol Hill in the wake of the Newtown, Conn., shooting – but lawmakers and advocates disagree on the necessity for new laws on the matter.
Enter National Rifle Association President David Keene who, if he were to channel moviemaker Mel Brooks, might snarl something like this: "We don't need no stinking antitrafficking laws." But he's more well-mannered than that. Instead, he said at a recent breakfast with reporters that claims that the US government lacks such laws are "just flat-out not true."
Mr. Keene was making a counterpoint to an argument put forward by Sen. Patrick Leahy (D) of Vermont, who during a hearing on gun violence last week said "there's no federal law that makes it illegal to act as a straw purchaser of firearms."
What to make of such conflicting statements?
The truth is that the nation does have statutes outlawing gun trafficking, as well as related laws that can be used to prosecute so-called straw purchasers, i.e., eligible gun buyers who obtain a firearm for someone who is ineligible to buy one.
However, many law enforcement officials – and a growing number of legislators from both parties – insist that existing laws are too frail and that a specific statute against straw purchasing is needed to give federal agents more legal firepower to crack down on gun trafficking.
---