Ted Nugent slams State of the Union. Why did he rip GOP, too?
Shock-rocker and gun rights activist Ted Nugent was expected to have words for President Obama's State of the Union message. The surprise was his criticism of Republicans, whom he said lack resolve to win against a 'ruthless' foe.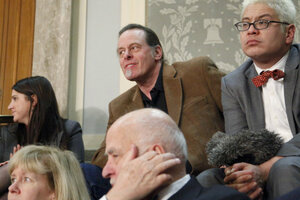 Jonathan Ernst/Reuters
Did you see shocker rocker/gun advocate Ted Nugent attending President Obama's State of the Union address? At first reporters had a hard time finding him, but eventually the cameras discovered the Motor City Madman high in the House gallery, sitting quietly in the crowd, with his hat off, wearing non-camouflage clothing. He looked out of place, like a cowboy at a piano recital. He also looked bored.
"My favorite part was when I couldn't hear clearly," said Mr. Nugent to reporters after the address. "Then, I didn't get angry."
But Ted Nugent's Excellent Washington Adventure was not an exercise in restraint. If nothing else, the Nuge fulfilled expectations from both left and right that he'd rhetorically bludgeon Mr. Obama's gun proposals.
"My reaction? I'm not allowed to do that because I'm supposed to keep my pants on," he told CBS News after the speech. "My reaction for the masses? It pains me to honestly give you my reaction. I just don't believe a word the man says. I've heard this predictable, flowery, feel-good speech of denial before."
Nugent then proceeded to give a fairly typical right-of-the-spectrum view of the gun violence problem. Dangerous criminals need to be kept locked up, he said, and mentally-ill people who exhibit threatening behavior should be "kept off the streets," too.
Nugent is a board member of the National Rifle Association, and he sounded as if he were echoing NRA talking points, although with much more volume and emphasis than even NRA head Wayne LaPierre. In that sense, he disappointed hard-core followers and liberals alike, both of whom may have been expecting a bit more crazy. There was no Nugent suggestion for a MediGun program dispensing AR-15s to retirees, for instance, or a proposal to add a camouflage fringe to the American flag.
---