Key Republicans say Chuck Hagel now likely to be confirmed
Senators John McCain and Lindsey Graham have led the opposition to Chuck Hagel's nomination to be secretary of defense. Now, both say former Sen. Hagel is likely to be confirmed.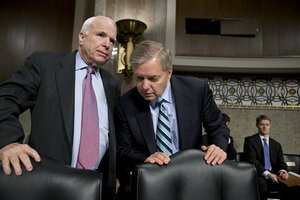 J. Scott Applewhite/AP
If nothing else, the congressional break for the week of Presidents' Day is a cooling-off period for the fight over former Sen. Chuck Hagel's nomination to be secretary of defense.
Questions about President Obama's handling of the terrorist attack in Benghazi, Libya, which killed four Americans, including the US ambassador – an issue, by the way, which Mr. Hagel had nothing to do with – are being answered to the apparent satisfaction of Republicans … at least to the point where they're willing to end their de facto filibuster of Hagel's nomination.
The argument over Hagel's reference to the power of the "Jewish lobby" on the State Department and members of Congress – a phrase frequently heard in Israel itself to describe influential lobbying efforts on behalf of the Jewish state – seems to be settled to the satisfaction of Sen. Lindsey Graham (R) of South Carolina. Sen. Graham, along with Sen. John McCain, led the opposition to Hagel in the Senate Armed Services Committee.
---