Why March 1 isn't Congress's last chance to amend 'sequester' cuts
True, $85 billion in spending cuts kick in on March 1, but they won't be widely felt for several weeks. Meanwhile, funding for government operations expires March 27. The two fiscal issues could be rolled into one, but a top GOP appropriator sees that as a recipe for disaster.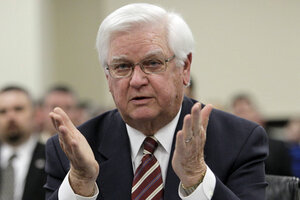 Ed Reinke/AP
Talk about your March madness. Two whirling-dervish fiscal issues are bearing down on Washington, and a couple of March deadlines mean that next month is likely to determine whether dealmaking will give Americans a breather from tax-and-spending fights – or whether intractability results in a federal government shutdown.
A key question is whether these two issues – 1) the much-maligned "sequester" and 2) funds to run the government for the second half of the fiscal year – will proceed on separate tracks, or merge onto one. The fuzzy expectation is that they'll merge, and that the task of replacing the first with something better will be absorbed into second. Call it a two-fer.
But some say such a merger risks yet another fiscal battle royale – including the possibility that the sequester's crimp on the economy would be followed by something much worse.
To head off doubling down on crisis, House Appropriations Committee Chairman Harold Rogers (R) of Kentucky is working to keep the two fiscal issues as far apart as possible.
"He thinks sequestration cuts alone are terrible," said a Republican House aide familiar with Chairman Rogers' thinking. "Having a full government shutdown on top of that would be more than the nation could bear."
Let's backtrack for a moment, just to make sure everyone's clear about the March itinerary.
First up, on March 1, is the sequester, that package of $85 billion in automatic spending cuts that has created a buzz about looming air-travel delays, cuts in student aid, furloughs for defense workers, fewer detentions of illegal immigrants, limited access to national parks, and so on. Though almost no one likes the sequester's across-the-board approach to the cuts, it looks as if Congress will not agree upon a different way to come up with the $85 billion by the end of this month.
---