Obama's plan to replace the 'sequester': Does the math add up?
President Obama wants to replace the sequester with a package of spending cuts and tax revenues adding up to $1.5 trillion over 10 years. But some say that's not enough savings.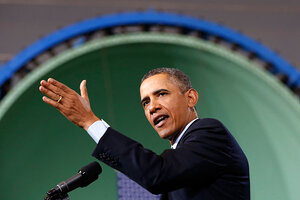 Kevin Lamarque/Reuters
President Obama has proposed a plan to avoid the much-loathed "sequester" that's scheduled to kick in Friday, imposing significant spending cuts on most programs in the federal government.
His plan is to replace the sequester's $1.2 trillion in across-the-board cuts over the next 10 years with targeted cuts and tax reforms that would cut the deficit by $1.5 trillion over the same period. The White House summarized the details of his plan to get to that $1.5 trillion number earlier this month.
Whether his plan is politically feasible is one thing – Republicans would have to swallow his proposal to close some tax loopholes for wealthy households. But increasingly there are questions about the economics of his plan, too.
Is $1.5 trillion enough?
Ultimately, Mr. Obama's goal is to get the US to $4 billion in deficit reductions over the next 10 years – a sort of magic number laid out by the 2010 Simpson-Bowles deficit commission. Obama does this by pairing his new proposal with $2.5 trillion in deficit savings over the next 10 years already approved by Washington, including spending caps from the 2011 Budget Control Act, tax hikes from the "fiscal cliff" deal, and lower interest payments tied to those changes.
The problem is, some economists say that, two years on, the $4 trillion goal is not enough anymore.
"President [Obama] has set the target for deficit reduction far too low," commented the Committee for a Responsible Federal Budget after Obama laid out his target two weeks ago. "He failed to mention that the $4 trillion economists were calling for after the Simpson-Bowles report is now more like $6.7 trillion today. By that measure, our debt problems are far from solved."
---