What the 'sequester' means for you ... and what won't change
For millions of Americans, life should go on much as usual, but for millions of others cuts in federal spending from the 'sequester' are likely to bring tangible effects. Which camp are you in?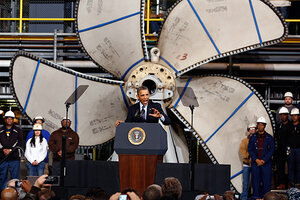 Kevin Lamarque/Reuters
Politicians in Washington haven't come up with a better plan – at least not yet. So, starting Friday the law of the land calls for automatic spending cuts to be imposed on most federal government programs.
How will this $85 billion in budget cuts – known as the "sequester" – affect you?
The answer is, it depends.
For millions of Americans, at least in the short run, life should go on pretty much as usual. The sequester won't affect their paychecks, their commutes to work, their parents' Social Security benefits, or the refundable tax credit for their children. That's because some very important federal programs are exempt from the cuts.
But many Americans – again measured in the millions – are likely to be affected in tangible ways large and small. Some will take a pay cut because they are federal employees who are furloughed for a time. Other families or business travelers face a longer wait in airport security lines. And the list of subsets of Americans whose lives will be touched somehow by the sequester goes from there.
Why the cuts? Why now? Congress and President Obama agreed on the sequester way back in 2011 as a crude way of reducing chronic federal deficits, if the two sides couldn't agree on a more elegant way. They haven't agreed yet. After some postponement, the deadline has finally arrived.
Here's a rough guide to what sequestration will and won't change, drawing on information from the Congressional Research Service and the White House.
---