What Congress has to do to avert a late-March government shutdown
Political leaders on both sides of the aisle stressed on Tuesday a commitment to reach a budget deal that avoids a government shutdown after March 27, when funding expires. But they are at the starting line.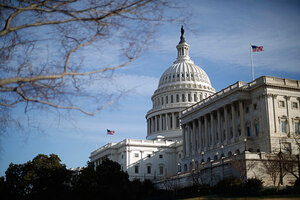 Jason Reed/Reuters
If a government shutdown occurs in March, it will be Mother Nature's doing, not Congress's, leaders in both political parties stressed on Tuesday.
As the D.C. region braced for snowfall that could tip into double-digit inches, House and Senate party leaders said both sides share a commitment to avoid a government shutdown and to keep the government running after March 27 (when current funding authorization ends), although the contours of a final budget deal remain hazy.
Failure to reach agreement, they acknowledge, would only add to any economic disruption stemming from automatic budget cuts that will begin biting at month's end. There's even a decent chance that along the way Congress could mitigate the worst bite of the "sequester" (as the automatic spending reductions are known).
A dose of congressional responsibility, perhaps?
"There's a sense of urgency and cooperation on both sides to try to get this done," said Senate minority leader Mitch McConnell, speaking of government-funding legislation during his weekly talk with reporters.
What will Congress have to get done? Two parallel but interconnected issues are roiling Capitol Hill right now. The first is the sequester, more than $1 trillion in spending cuts over the next decade that saw its first $85 billion installment begin on March 1. The second is the need to fund the federal government beyond March 27, when legislation keeping the federal bureaucracy churning comes to an end.
Because the politically controversial sequester affects the level of government spending, these two issues are logically joined at the hip. Yet the leaders shepherding government funding bills on both sides of the Capitol – House Appropriations Committee head Hal Rogers (R) of Kentucky and Senate Appropriations chairman Barbara Mikulski (D) of Maryland – are fighting like mad to keep the toxic politics of the former from affecting the latter.
---