'Sequester' watch: Will US spending cuts really cost 750,000 jobs?
Critics say President Obama is spinning the likely impact of 'sequester' cuts to pressure Republicans to replace them, but private-sector forecasts suggest that a loss of 750,000 jobs may not be far off.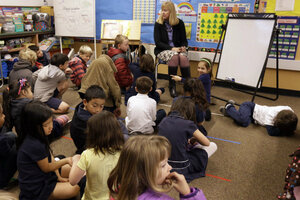 Ben Margot/AP/File
President Obama has warned that new cuts in federal spending will cost the economy 750,000 jobs this year.
He's repeating an estimate that's been given by the Congressional Budget Office (CBO).
Will the "sequester," the automatic spending cuts resulting from a political stalemate, really be that bad?
The question is cropping up, in part, because the days since the spending restraint took effect, on March 1, haven't exactly been filled with layoff announcements.
Instead, one prominent headline has been about Education Secretary Arne Duncan retracting a statement that teachers are already getting pink slips because of the funding cuts. A blizzard dubbed "snowquester" is doing more to slow air travel than the sequester, despite warnings about a Congress-induced squeeze on air traffic control and security screening.
And instead of appearing terrified about economic ripple effects, investors Tuesday pushed the Dow Jones Industrial Average to its first all-time high since 2007.
All that might suggest the sequester "bang" is turning into a whimper, and that any job impact will be minimal.
Maybe that will prove to be the case. But many economists predict that, if the sequester or cuts of similar magnitude stay in place, the president's job-cut forecast may not be far off.
---