Life after 'sequester': Does federal budget have $1 trillion in fat to cut?
Deficit hawks say that, 'sequester' or not, federal spending needs to come down by at least $1 trillion during the next decade. But finding that money just in government waste is hard.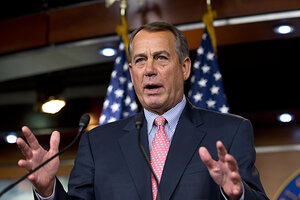 J. Scott Applewhite/AP
The newly launched "sequester" federal spending cuts are large – large enough to total more than $1 trillion if they were to stay in place for 10 years.
That won't happen, because no one likes the sequester's arbitrary approach to the budget, in which all programs are supposed to be cut by the same percentage.
But deficit hawks say that deficit savings of at least that magnitude are needed to avoid a dangerous buildup of government debt.
Which raises the question: How hard would that be?
Conflicting answers to that question are as close as the latest TV sound bites or polls of public opinion.
On Thursday, House Speaker John Boehner (R) of Ohio implied fiscal discipline isn't that hard. He called for an even more aggressive goal: getting the deficit down to zero in 10 years (something the sequester doesn't achieve). He said House Republicans will leave the sequester in place until it is supplanted by a balanced-budget plan.
House minority leader Nancy Pelosi (D) of California, in her own Thursday press briefing, said such spending cuts hurt middle-class families, and said new tax revenue must be part of the solution.
"They won't touch these tax breaks for the wealthiest and the special interests," she said, complaining about the Republican position.
---