Rand Paul's drone filibuster shakes up Republicans
Sen. Rand Paul's filibuster got results: The White House acknowledged that killing US citizens suspected of being terrorists must follow the rule of law. But it also shook up the Republican caucus.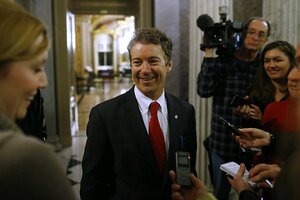 Charles Dharapak/AP
Sen. Rand Paul's 12-plus hour filibuster was never going to block Senate confirmation of John Brennan to be the director of the Central Intelligence Agency, and indeed the full Senate voted, 63 to 34, Thursday afternoon to approve Mr. Brennan as the nation's next spymaster.
But Senator Paul's unusual maneuver – actually talking for hours on end, and not just threatening to filibuster – has had an immediate effect on a key issue that many lawmakers (and many voters) find troubling: the use of unmanned drone aircraft to kill suspected terrorists, including, potentially, US citizens on US soil.
Forced to respond, Attorney General Eric Holder in a three-line letter to Paul Thursday addressed what had been posed by Senate Republicans as a constitutional question: "Does the President have the authority to use a weaponized drone to kill an American not engaged in combat on American soil?"
"The answer to that question is no," Mr. Holder, wrote – at long last, in the view of his critics. In a Senate Judiciary Committee hearing Wednesday, Holder would only say that killing a hypothetical suspected American terrorist on US soil who poses no immediate threat would be "inappropriate."
Holder's letter satisfied Paul.
---