Gay marriage: Why presence of chief justice's lesbian cousin at court matters
The lesbian cousin of Chief Justice John Roberts will attend this week's historic arguments on gay marriage as his guest. Some prominent politicians have changed their stand on gay marriage because of relatives, but for a justice, the impact is unknown.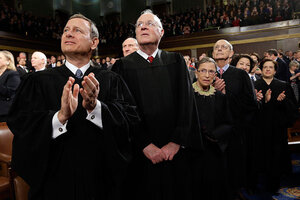 Charles Dharapak/AP/File
Chief Justice John Roberts's lesbian cousin will attend this week's historic arguments at the Supreme Court on gay marriage as a guest of the conservative justice.
That news, reported by The Los Angeles Times, adds a new dimension to two cases already steeped in emotion. The first case, to be heard Tuesday, centers on Proposition 8, which bars same-sex couples in California from marrying. Justice Roberts's cousin, Jean Podrasky, lives in San Francisco and wants to marry her partner.
On Wednesday, the court will hear another gay marriage case, on the constitutionality of the 1996 Defense of Marriage Act (DOMA), which defines marriage as one man and one woman for the purpose of federal benefits.
The presence of Roberts's cousin brings to the fore an age-old question: how judges – all the way up to US Supreme Court justices – are affected by their personal experiences, as well as those of loved ones. Roberts, of course, will rule based on his reading of the Constitution, and not out of any personal involvement with the issue.
But the news that his lesbian cousin – who attended his confirmation hearing in 2005, and was introduced by Roberts along with other family members – will attend the arguments shows that, at the very least, Roberts has had the opportunity to consider the issue of gay marriage through the experience of a family member, like many Americans.
In recent years, millions of Americans have changed their views on gay marriage, as seen in the dramatic rise in support for the idea in opinion polls. For elected officials, gay family members can provide the impetus for a public change of heart, at times politically risky depending on the state and the politician's party affiliation.
---