Gun-control debate: How does Bloomberg stack up against the NRA?
New York Mayor Michael Bloomberg is on a mission to challenge the NRA's longtime sway over gun policies. Here are the strengths each side brings to the gun-control debate.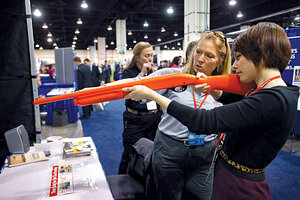 Jacquelyn Martin/AP
How do New York Mayor Michael Bloomberg and his "super political-action committee," Independence USA, stack up against the National Rifle Association (NRA)? Here is a look at the strengths of each side.
What Mr. Bloomberg and his super PAC offer:
Money
The NRA has extraordinarily deep pockets, but still, Bloomberg has a net worth of $27 billion. Undoubtedly, his fortune is his greatest asset.
"There's never been a level playing field when it comes to dollars and cents," says Stefan Friedman, a spokesman for Independence USA. "He's evening the financial playing field."
"Mayor Bloomberg's involvement reflects the first time you have a force with significant money supporting candidates who favor [gun control]," adds John McGlennon, a political scientist at The College of William & Mary in Williamsburg, Va. "That's a big change: For all the involvement of other groups like the Brady Campaign, their ability to compete with the NRA financially just didn't exist. This lets [pro-gun-control] candidates know that there is somebody out there who can support them."
Public support
Bloomberg entered the conversation at a crucial juncture, when the Newtown, Conn., shooting led many people to support more gun-control legislation.
More than 90 percent of Americans support background checks for all gun buyers, according to a Quinnipiac University poll conducted about a month after the shooting. A separate USA Today/Gallup poll found 58 percent of Americans favor stronger gun laws – the highest level since 2004 and a 15-point increase from a year earlier.
"He has the weight of public opinion," Mr. McGlennon says. "People are looking for some change on gun regulation, especially background checks and large magazines."
Targeting power
The NRA typically supports any candidate to whom it gives a good rating, thereby spreading itself thin, says Dick Simpson, a political scientist at the University of Illinois at Chicago. By contrast, Independence USA focuses its resources on the most strategic races and candidates, thus potentially achieving more bang for its buck.
---