'Path to citizenship' roils immigration reform. But what is it, exactly?
The most contentious issue in immigration reform is probably the potential of a 'path to citizenship.' But the heated rhetoric obscures the fact that both sides have many points of agreement.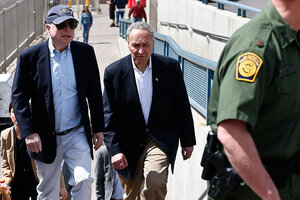 Ross D. Franklin/AP
Immigration advocates demand it. Conservative immigration reformers say it's not happening. The very mention of it freaks out Sen. Rand Paul.
It's the most politically-explosive issue in the ongoing immigration reform debate – but what is a "path to citizenship," anyway?
In short, the question of a pathway to citizenship asks whether the more than 10 million undocumented immigrants in the country can ever become US citizens.
The question today is largely what kind of route the currently undocumented would take to become citizens – a special path designed specifically for the current illegal population or the regular channels available to other potential immigrants.
Everyone agrees that a final bill won't have any sort of deportation for the vast majority of the undocumented population. In the past, some hardliners on immigration hoped the federal government would either begin a deportation program or adopt policies making enforcement conditions so unbearable for those in the country illegally that they self-deport (as Mitt Romney put it).
Instead, both conservative and Democratic reformers from Sen. Marco Rubio (R) of Florida to President Obama and Rep. Luis Gutierrez (D) of Illinois believe the first step for immigration reform is putting undocumented people on a pathway to "legal status" in the US.
Whenever you hear a phrase similar to "bringing people out of the shadows," you're hearing a politician talking about a "probationary" period where the currently-illegal can work, get drivers licenses and generally live their lives with many of the responsibilities of US citizens but a diminished number of rights.
This isn't a status conferred for free, however.
Those here illegally would have to hit eligibility criteria like paying a fine and taxes and passing a background check before they would be eligible for such a program. Lawmakers in both houses of Congress have said that those in this status will not be eligible for a slew of federal-benefits programs like welfare or SNAP, formerly known as food stamps. And, of course, they couldn't vote.
---