Gay marriage opinion shift: conservative lawmakers, pundits left scrambling
As public opinion moves in favor of gay marriage, members of Congress find they have to adjust their stance. Conservative pundits are beginning to acknowledge this as well.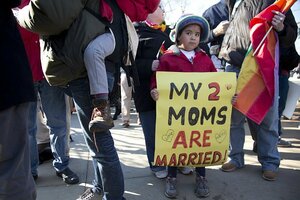 Carolyn Kaster/AP
This being the Easter/Passover Spring break for Congress, you'd think lawmakers back in their home districts would be eager to talk about the past week's major news story – the latest developments on same-sex marriage, which has seen one of the most pronounced and rapid shifts in public opinion and political action in recent US history.
But no, they're trying to figure it out too, and so are most of their constituents. Meanwhile, one-by-one (or so it seems) political figures are coming out for gay marriage.
Most recently, that's US Rep. Justin Amash, (R) of Michigan, a conservative who used to defend the Defense of Marriage Act (DOMA), which was argued before the US Supreme Court this past week.
"Real threat to traditional marriage & religious liberty is government, not gay couples who love each other & want to spend lives together," Rep. Amash wrote in a Twitter exchange with The Huffington Post. "I support repealing federal definition of marriage portion of DOMA. Always have."
Asked if gay couples should have the option to marry, Amash tweeted: "Of course. How can anyone stop a couple from getting married in their own way? I just want government out." (Read the full exchange here.)
---