Alabama joins flood of states restricting abortion. What's behind this?
The Alabama and Virginia legislatures just passed new measures, following stricter actions in North Dakota and Arkansas. To understand this latest wave, look to the tea party.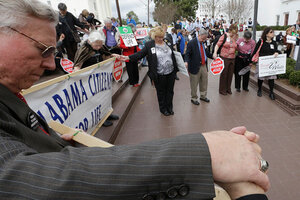 Dave Martin/AP
Alabama has joined North Dakota and Arkansas in taking steps to enact tough new restrictions on abortion.
The Alabama bill, passed by the state Legislature late Tuesday, includes a requirement that an abortion provider have admitting rights at a local hospital – a rule that may sound minor, but could prove challenging to achieve in a state with strong opposition to abortion. Supporters say it is aimed at protecting women's health, while opponents say it is medically unnecessary and aimed at denying women access to abortion.
Last week, North Dakota became the most restrictive state in the country toward abortion when the governor signed a bill banning abortion as soon as a fetal heartbeat is detected – as early as six weeks. North Dakota also requires abortion doctors to have admitting privileges, as do Mississippi and Tennessee. Early in March, Arkansas passed a fetal-heartbeat law that would ban abortion as early as 12 weeks.
Also taking action on abortion, but along a different track, is Virginia. On Tuesday, the legislature approved a measure proposed by Gov. Robert McDonnell (R) that would forbid insurers in federally managed "exchanges" from covering abortion under the Affordable Care Act (ACA).
---