To Republicans, Margaret Thatcher was first conservative-as-insurgent
Margaret Thatcher, the former British prime minister, embodied much of what inspires US Republicans with her iron-willed stand on the effectiveness of conservative principles.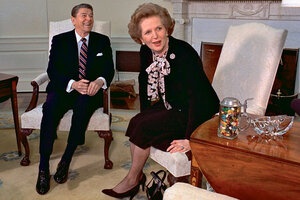 J. Scott Applewhite/AP/File
Margaret Thatcher will not soon be forgotten by American conservatives.
Ms. Thatcher's death on Monday generated an outpouring of personal memories from Republican members of Congress across the country.
Indeed, in an age where conservative Republicans style themselves as revolutionaries bucking a stale liberal order, it is Thatcher, even before her brother-in-arms President Ronald Reagan, who was the first successful conservative-as-insurgent.
"Thatcher is the first point in modern Western political history at which you can say the conservatives become the reformers or the revolutionaries and the left becomes the defender of the status quo," says Ted Bromund, a senior fellow at the conservative Heritage Foundation. "Thatcher was a revolutionary and a conservative simultaneously."
The Iron Lady, who rose to the rank of prime minister in 1979 and retained the post until 1990, had a steely, ramrod-straight alignment with conservative principles and brandished tomes by conservative economists on a handful of moments throughout her long career.
That relish at joining the philosophical debate combined with a forthright espousal of conservative beliefs and her long-running political success is an inspiring mixture to many similar-minded GOP politicos today.
"Lady Thatcher was a towering figure and a hero of mine," said Sen. Pat Toomey (R) of Pennsylvania, elected to the Senate in the tea party wave of 2010 and former head of the fiscally arch-conservative Club for Growth, in a statement.
---