Entitlement reform takes step toward reality in new Obama budget
President Obama will unveil a budget Wednesday that includes reforms to entitlements such as Social Security and Medicare. The budget probably won't pass, but it points to a shift in the debate.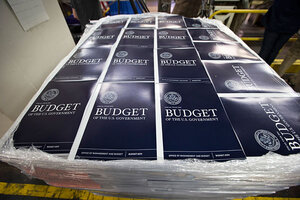 J. Scott Applewhite/AP
President Obama's new budget proposal, expected to be released Wednesday, is a sign that Washington's attitude toward entitlement reform is slowly shifting, with prospects for changes to Social Security and Medicare becoming increasingly likely – if not this year, then soon.
Mr. Obama's budget would adjust the way Social Security payments are stepped up for inflation each year, saving the federal government $100 billion or more over 10 years, while also finding $400 billion in cost savings from Medicare and Medicaid.
The budget is not likely to pass Congress. In fact, the president himself has warned that getting a deal done this year looks very hard. But his plan suggests that some Democrats – who have been traditionally loath to tinker with entitlements – are acknowledging the mounting economic pressures.
The national debt has doubled during the past decade as a share of gross domestic product (GDP), and entitlements are seen as the primary driver going forward. As news reports from Greece to Illinois show the real consequences of debt, there is a new urgency in some quarters to make sure that federal entitlement spending doesn't spin out of control when the crest of the baby boomer retirement wave arrives.
While Rep. Paul Ryan (R) of Wisconsin has given fellow Republicans cover to talk about significant entitlement reforms the past few years, the prospect is still a daunting one for many Democrats. Yet some are beginning to position themselves not as defenders of the status quo, but as agents of responsible change.
---