Obama budget changes Social Security: Are Republicans on board?
President Obama proposed changes to entitlements including Social Security in his new budget, prompting hopes of a 'grand bargain.' Republicans mixed qualified approval with skepticism.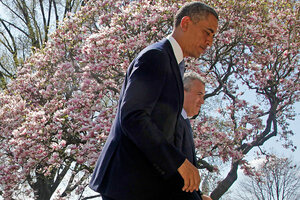 Charles Dharapak/AP
President Obama clearly hoped to stir Washington into action with his 2014 budget plan Wednesday, proposing changes to Social Security and Medicare that have angered liberal members of his party.
But the Republicans who have urged the president to take such steps responded to the budget with a less-than-ringing endorsement.
While the budget shows a willingness to make changes to the nation's entitlement programs and potentially jump-start negotiations, the distance that remains between the two sides is so large that the summer's talks look more likely to produce a modest deal rather than a sweeping accord, some say.
"At least he put something here that shows a willingness to address entitlements," said House Budget Committee Chairman Paul Ryan (R) of Wisconsin. "That shows me that there's a glimmer of hope to getting to an agreement at the end of the day, but we're a long way from getting there right now."
There has been hope that the need to raise the debt ceiling this summer could provide the opportunity to knit together fiscal issues ranging from entitlement and tax reform to revising the "sequester" cuts in a long-sought "grand bargain" to fix to the nation's finances.
---