Six things Obama's budget plan reveals about his priorities
President Obama's $3.78 trillion budget for fiscal 2014 lays out elements of a possible 'grand bargain' with Congress. At the same time, it speaks to his policy priorities.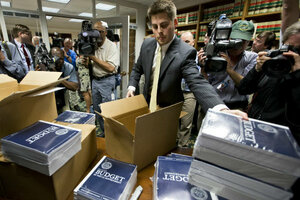 J. Scott Applewhite/AP
With the arrival of President Obama's budget plan, it's official: Both political parties have laid out fiscal blueprints that embrace the controversial idea of entitlement reform.
The catch: Mr. Obama won't seek cost savings within entitlements popular with the middle class unless new tax revenues are part of the package, while the budget House Republicans have put forward envisions no new tax revenue.
Still, the willingness of both sides to confront projected revenue shortfalls for Social Security and Medicare is significant. It's a sign that leaders in both parties realize that, as politically risky as it may be to tinker with those programs, that's the only path toward a sustainable fiscal plan for the nation.
Here's a tour of Obama's budget blueprint for the next 10 years, as seen through six central priorities:
1. New deficit reduction: $1.8 trillion.
The fulcrum of Obama's budget is a $1.8 trillion offer for additional deficit reduction over the next 10 years, beyond some $2.5 trillion in steps Obama and Congress have already taken in the past two years to reduce future deficits (adding up to $4.3 trillion total). Obama first made the offer a few months ago in fiscal talks with House Speaker John Boehner (R) of Ohio, and now it's an official part of his budget – a move intended to lure Republicans to the bargaining table.
"By including this compromise proposal in the Budget, the President is demonstrating his willingness to make tough choices to find common ground to further reduce the deficit," the Obama administration says in its budget summary, released Wednesday.
---