For former Iranian 'terrorists,' a warm Washington welcome
With Washington luminaries in attendance, the Iranian dissident group NCRI and its formerly armed wing MEK inaugurated their sleek new offices Thursday, within sight of the White House.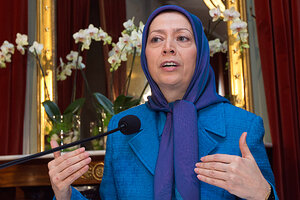 Salvatore Di Nolfi/Keystone/AP
An Iranian dissident group that languished on the US list of terrorist organizations for more than a decade under both Democratic and Republican administrations marked its full rehabilitation Thursday when it opened sleek new offices – complete with floors covered by plush Persian carpets – within sight of the White House.
Just how stunning the reversal of fortunes has been for the National Council of Resistance of Iran (NCRI) and its formerly armed wing, the Mojahedin-e Khalq, or MEK, was underscored by the long list of Washington luminaries who attended the office inauguration.
From prominent former members of Congress to former national security officials and high-profile diplomats, the caliber of the American advocates on hand for the ribbon-cutting demonstrated how effective the Iranian opposition organization has been at transforming its image – from that of a fringe group with a violent past to one in which it is the embodiment of the democratic aspirations of the Iranian people.
Referring to the NCRI's platform, which states as its goal the fall of the ayatollahs' regime and the establishment of "a free, secular, democratic, and non-nuclear Iran," Gen. James Jones, who served as President Obama's first national security adviser, described the objectives as "completely in sync with our core [American] values."
---