Obama and 'terrorism': why he hesitated to use that word
On Tuesday, President Obama referred to the bombings at Monday's Boston Marathon as 'terrorism,' after declining to do so right after the incident. His hesitation was classic 'Obama caution.'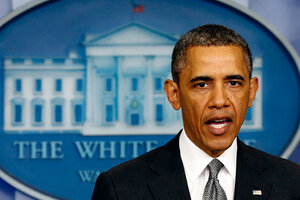 Kevin Lamarque/Reuters
For the first time, President Obama has referred publicly to Monday's Boston Marathon bomb attacks as "terrorism."
"This was a heinous and cowardly act, and given what we now know about what took place, the FBI is investigating it as an act of terrorism," the president said Tuesday from the White House briefing room. "Any time bombs are used to target innocent civilians, it is an act of terror."
On Monday evening, in his first statement on the explosions, Mr. Obama didn't call the attack "terror" or "terrorism;" he called it a "tragedy," sparking criticism from some conservatives that he was underplaying the meaning of what had happened. Yet right after the president's remarks, a White House official told reporters that the administration was treating the attack as terrorism.
"Any event with multiple explosive devices – as this appears to be – is clearly an act of terror, and will be approached as an act of terror," said the official, according to Politico. "However, we don't yet know who carried out this attack, and a thorough investigation will have to determine whether it was planned and carried out by a terrorist group, foreign or domestic."
Three people died and 176 were injured in two bomb explosions at 2:50 p.m. Eastern time near the finish line of the storied Boston Marathon.
---