Immigration reform: How many new immigrants are we talking about?
The new immigration reform bill will double the number of immigrants coming to the US over the next decade, critics say. Others say it's too early, too complex, or too politically risky to tell.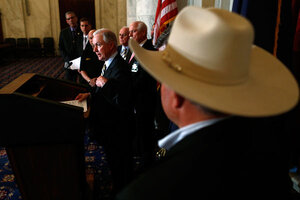 Charles Dharapak/AP
These may seem like straightforward questions: How many new permanent residents of the United States will there be every year, if the Senate's bipartisan legislation on immigration reform becomes law? And how many new workers would the plan inject into the American economy, exactly?
The problem, at least for the moment, is that even those involved in crafting the immigration reform legislation don't know the answers.
"Nobody has a number that is based on the bill right now that's accurate," said Lynn Tramonte, deputy director of America's Voice Education Fund, a group that supports the reform effort, in a conference call with reporters. "This bill is extremely sophisticated ... it'll take a bit more [analysis] to get a specific number about how things will change."
A Senate Democratic aide involved with the drafting of the bill echoed that assessment, as did a Senate Republican aide outside the process.
It's a fundamental issue, yet to be resolved, even as Senate Judiciary Chairman Patrick Leahy (D) of Vermont looks to move the bill through his committee in as little as two weeks' time.
Supporters and detractors agree that that, should the bill become law, they expect legal immigration to boom over the next 10 years.
Pro-reform analysts say that's a good thing: The bill is replacing illegal workers with legal ones, these advocates argue, thus allowing American employers legally to meet legitimate business needs and uniting families kept apart by poorly fashioned immigration laws.
---