House prioritizes bills to pay if US hits debt ceiling. Is default averted?
The bill would allow the federal government to pay interest on the nation's debts, even if the US does not raise the debt ceiling. But some say the effect would be different from what is envisioned.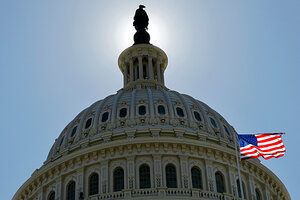 Alex Brandon/AP/File
House Republicans muscled through legislation on Thursday that they believe would take a potential default on the national debt off the table – if (or more likely, when) the parties engage in another debt-ceiling showdown later this year.
But what House GOP leaders say the bill achieves and what it might actually do is a matter of debate. Nonpartisan analysts argue that although it could be a tool for pushing off a potential default on some of America's obligations for several weeks, it still leaves a harrowing trip into the financial unknown at the end of that time.
The bill, which eked through the House 221 to 207 on a largely party-line vote, would allow the federal government to pay interest on the nation's debts and prop up Social Security payments, even if the United States fails to increase its federal borrowing limit. Such an event could occur in September or October.
Republicans say the legislation prioritizes payments, ensuring that there won't be the kind of missed obligations that could precipitate a formal default. At the same time, the bill politically insulates them from charges by Democrats that forcing negotiations over the debt ceiling puts payments to seniors in jeopardy.
"Clearly, we cannot default on our debt," said Rep. Dave Camp (R) of Michigan, chairman of the House Ways and Means Committee, which brought forth the bill. "The consequences of doing so could be very serious. A default would at the very least hinder an already stagnant economic recovery, and, in a worst-case scenario, lead the country back into a recession.... If signed into law, this legislation would prevent such an unacceptable situation."
---