Minority report: 3 big trends in the Census Bureau's voting data
New census report shows rising numbers of minority voters, turning out at higher rates, just as the white vote is declining. For Republicans, demographics may be destiny, unless the GOP finds ways to adapt.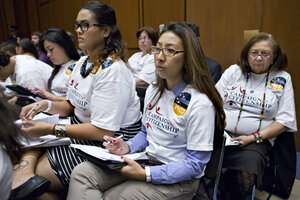 J. Scott Applewhite/AP
If you had any doubts, it's now official: When it comes to minorities, the GOP is not rocking the vote. That's according to new data from the US Census Bureau, released Wednesday, that shows that record levels of black voters, as well rising numbers of minority voters, are turning out at the polls just as the white vote is declining. Unless Republicans can change their batting average with minorities, the data suggest they could strike out of office in future elections by dint of sheer demographics.
As Allan Lichtman, a presidential historian at American University in Washington, earlier told the Monitor, "the GOP [is] on the wrong side of history, demographically speaking."
But fear not, Republican National Committee Chairman Reince Priebus, all is not lost for the Grand Old Party. While the data show overwhelming support for President Obama among black and other minority voters in 2012, opportunities still exist for Republicans in two major voting cohorts, ones that will swell in coming years, to boot: the Hispanic and youth vote.
Here are three important lessons we learned about voting trends:
Black voters turned out in record numbers
---