Federal deficit falling fast: Is that a good thing ... or a bad thing?
New estimates show the US federal budget deficit falling faster than forecast. To some, that's a sign that fiscal policy is becoming too austere, valuing quick cuts over more-needed reforms.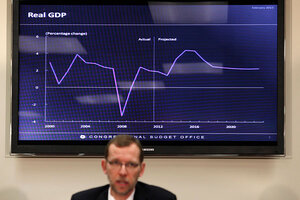 Jacquelyn Martin/AP/File
A smaller federal deficit is welcome news, right? Well, make that maybe.
Some economists see a risk that, with the budget deficit now declining faster than expected, the result will be to further slow down an already tepid jobs recovery.
The idea is that, when the private sector is still struggling to create a lot of job-generating demand from consumers and businesses, government shouldn't be tightening its spigots.
Yet fiscal policy is getting tighter: The federal government is on track to spend $82 billion less this year than last year, while pulling $363 billion more in tax revenue out of consumer wallets.
"The [deficit] is coming down too fast given the still weak economy," says Jared Bernstein, an economist and former Obama administration adviser, in his blog. "Moreover, both deficits and debt start to grow again later [in the decade]. So the deficit is falling quickly when it shouldn't be and rising later when it shouldn't be."
New figures from the Congressional Budget Office show this year's deficit on track to total $642 billion, down from a forecast of $850 billion three months ago.
A clear positive in that news is the slower buildup of national debt, as the CBO sees deficits falling in part due to a faster-than-expected rebound in tax revenues. That shift lightens the burden of debt to be financed by future American taxpayers.
But the optimum fiscal policy right now is a matter of sharp debate.
---